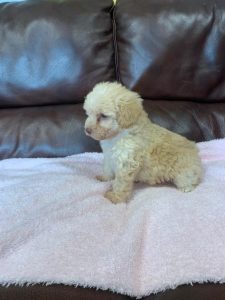 Tenterfield are very lucky to have their own school dog. Her name is Pixie!
Pixie is well cared for and responsibly owned by Ria Haley, our class teacher.  
The breed, Patterpoo, is carefully selected as suitable for this type of environment.
Children can benefit educationally and emotionally, increase their understanding of responsibility and develop empathy and nurturing skills through contact with a suitable calm dog. In addition to these benefits, children take great enjoyment from interaction with animals.
Reasons to have a dog in school 
Dogs are incredibly calm and happy to have pupils read with them or join a group of children whilst they are having a focus session. 
Dogs give unconditional acceptance, as they are non-judgemental 
The dogs also provide confidence to children, they make amazing listeners, providing the children with a sense of comfort and love. 
Dogs are great fun to have around and can bring a caring, family atmosphere to a school. 
Some schools are using dogs to improve behaviour problems by promoting positive behaviour in pupils.
A dog can support children who are anxious about school and could be the reason that they want to come in every morning. 
Dogs in school offer an opportunity for improving social development. They are especially useful for teaching pupils social skills responsibility. Specifically, schools are using dogs to help pupils build self-esteem, learn about positive and negative reinforcement, responsibility and boundaries. 
With a dog in the classroom, pupils have the opportunity to learn how to care for the animal. This includes walking and grooming. 
Researchers report that involving students in the daily care of classroom dogs is a positive experience, promoting their own daily care. The pupils also learn about responsibility, caring and sharing when helping each other take care of a dog at school. 
Increasingly in schools, it is becoming recognised that children's emotional wellbeing is at the root of positive behaviour and success with socialising as well as in the classroom. 
Caring for an animal can help children to learn about responsibility and can help children to learn how to treat animals safely and with compassion. 
Dogs will be gentle and loving, but at the same time full of fun and enjoyment for the pupils. 
Walking, grooming, playing and training are some of the responsibilities pupils will be allowed to undertake. 
It has been proved that working and playing with a dog improves children's social skills and self-esteem. 
Dogs can work with pupils on a one-to-one basis and will especially help those pupils who are going through upsetting/difficult times or are even scared of/phobic about dogs. 
The dog will bring much joy and help to all the pupils they meet and are happy to provide plenty of hugs to the pupils with whom they are spending time. 
 Pupils who struggle with social interaction can find a reassuring friend in a dog