Dear Parents & Carers, 
I would like to start with a HUGE thank you to the three Dads who helped us on our Garden Day last Saturday. We couldn't have done it without you! Sam (Isaac's Dad) bought all his power tools and moved fencing to allow us to create a contained garden area for the pink group. Mark (Alice's Dad) and Sam (Reuben's Dad) did an excellent job at filling our skip for us, and filling our sandpit with lots of new, fresh sand! Your help was so appreciated by the team here, and by the children…they are loving being outdoors in our improved areas! A big thank you to the staff and governor (Clare) who also gave up their Saturday to clean, tidy and organise! I know many of us were certainly aching the next day ! 
Conjunctivitis: We are experiencing an outbreak of conjunctivitis currently in the nursery. Please see the separate email that was sent out earlier today with guidance if your child is showing symptoms. 
Cake sale: Next Friday we will be having a cake sale at collection times. 11.30-12pm & 2.45-3pm. 
Forest School: We were very limited with parent helpers at our forest school session on Thursday, thank you to those that did attend. Forest school is an amazing experience for our Tenterfield children, but we can only go if we feel it is safe. 
As we are now in the summer term, the weather has improved and children are now familiar with the routine and environment. Therefore we would like to take all the children (not pink group) every Thursday. 9-11am. 
We will need a minimum of 7 parent/carer helpers, to enable us to go. We are creating a sign up sheet to put your name down to attend or email Rhoda at admin@tenterfield.herts.sch.uk to confirm your attendance. 
We really value your support to allow the children to explore the awe and wonder of our natural world. 
School office: Once the doors have closed at 8.45am we need to keep the building secure. Therefore if you have forgotten an item or arrive late, please can we ask that you come to the main reception doors at the front of the building. Please do not ring the bell under the canopy, as the doorbell can be disruptive for our youngest children who are in session. 
National firefighter day: Thursday 4th May is national firefighter day. If we have any parents who are a firefighter or family members we would love to invite you to nursery next week to see the children. Please email admin@tenterfield.herts.sch.uk if this is something you can help us with. 
Caterpillars: The caterpillars have arrived!! We are having lots of conversations about life cycles. We are currently reading "The very hungry caterpillar." Ask your child about it! Our key vocabulary is: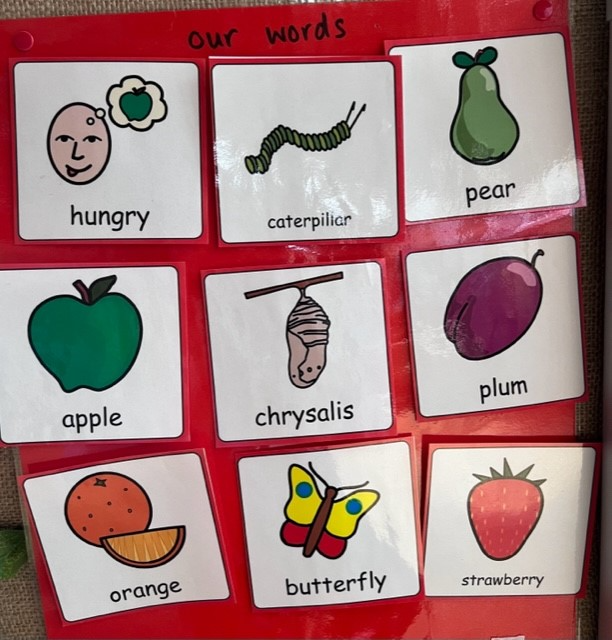 Kings Coronation: Next week we will be talking about the Kings coronation and starting to make and create items for the celebration. We will be having a coronation picnic on Tuesday 9th May. More information to follow next week, but if your child is in the red or orange group they will be invited to bring a packed lunch and stay for a picnic. 
We hope you have a lovely May bank holiday weekend, see you on Tuesday! 
Mrs Beare 
Mon 1st May
Bank Holiday – Nursery Closed
Tue 2nd May – Fri 5th May
Caterpillars week
Thu 4th May
National Fire Fighters Day
Mon 8th May
Bank Holiday – Nursery Closed
Mon 5th June  Children return to Nursery

Thu 8th June
World Ocean Day
Thu 15th June
Fathers Day Celebration
Fri 16th June
INSET Day – Nursery Closed
Mon 24th July – Fri 18th August
Summer Holiday Club Open