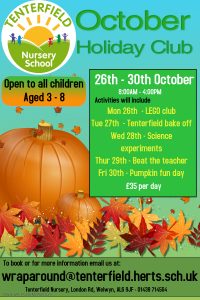 Holiday Club is available to all children aged 3 – 8 (Foundation Stage and Key Stage 1).
October Holiday Club
26th – 30th October 2020
Activities will include:
Mon 26th – LEGO Club
Tuesday 27th – Tenterfield bake off
Wednesday 28th – Science experiments
Thurs 29th – Beat the teacher
Fri 30th – Pumpkin fun day
8 a.m. to 4 p.m. booking £35.00 per day, for  limited time.
Those children attending other local schools or pre-schools are very welcome to use our holiday provision.
Please call the office on 01438 714564  or email wraparound@tenterfield.herts.sch.uk for more information or to book your place.