Holiday Club is available to all children aged 3 – 8 (Foundation Stage and Key Stage 1)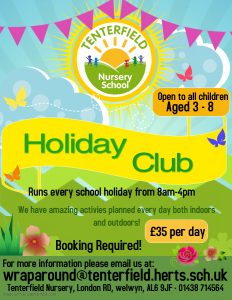 8 a.m. to 4 p.m. booking £35.00 per day!
Those children attending other local schools or pre-schools are very welcome to use our holiday provision, as well as siblings up to the age of 8 years old.
Our holiday club spaces get booked very quickly so please email Katie to ask to be added to our mailing list. wraparound@tenterfield.herts.sch.uk
Or look at our FaceBook page to see when bookings are open:
www.facebook.com/tenterfieldnurseryschool
Please call the office on 01438 714564  or email wraparound@tenterfield.herts.sch.uk for more information.