The school provides additional hours packages to supplement the free funded early years entitlement for 3 and 4 year olds during term times.
Children stay in their familiar environment with the same staff and their friends where they feel happy and safe.
Packages are available on a termly booking basis. Please email Katie at wraparound@tenterfield.herts.sch.uk for latest prices and availability. We have a variety of packages available to accommodate working parents who require childcare from 7.30am-5.30pm.
We also offer Breakfast Club AND Afterschool care to children in Reception & Key Stage 1 at Welwyn St Marys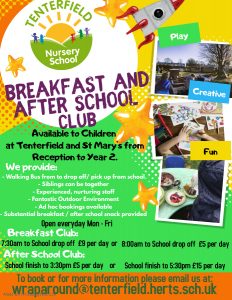 To enquire or book our holiday club provision available for EYFS and Key Stage 1 children  please contact Katie at wraparound@tenterfield.herts.sch.uk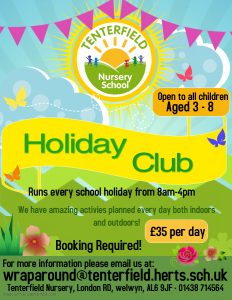 "Thank You for the amazing time our two have had at holiday club this summer!! The time and effort that must go into the planning of these days is clearly evident and greatly appreciated.  I think the children have just the best time, and we are lucky to have, by far, the best holiday club for miles around!!!"